Brands: We sell all the top names in motorcycle tires; Dunlop, Metzeler, Pirelli, Avon, Bridgestone and Michelin are just a few. If we don't have the tires you need in stock, we can usually get them overnight.
Installation: We use a specialized tire-changing apparatus that prevents damage to the delicate rims of motorcycle wheels, and a computerized spin balancer to ensure accurately balanced tires for the highest speed applications. For our customers with custom wheels we even have chrome-plated wheel weights to provide them with accurately-balanced tires while maintaining the beauty of their custom wheels.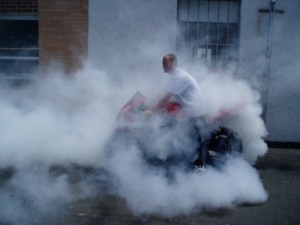 Tire Service Flat Repairs
We sell a full line of products for emergency road side flat repair. We have Tire plug kits in stock with or without air cartridges that you can keep with you on the road. If you are in the area when road debris strike we will be happy to assist you stop by for a look and repair recommendation while you wait if possible. A tire with a nail or screw can many times be fixed with a plug and you can be on your way.
Motorcycles and Scooters ride s-m-o-o-t-h with
Dynamic Balancing Beads!

You simply won't believe the ride...
Glass smooth ride, every time, all the time.
Dramatically longer tire life
No rebalancing
No spoke or rim weights
Eliminates tire cupping.
Easy to install
You won't want to do it the old way once you have tried
Counteract Balancing Beads or Dyna Beads Get them Here!