In 2010, Joe and Chuck of Foil Hat Racing started building their Land Speed Racer. After some research they decided that a 1984 Honda VF500 Interceptor engine in a Honda Magna frame (chosen for the longer wheelbase) would form the basis for the bike. Working with the speed gurus at Injection Connection and Bikes Built Better, they fabricated a custom electronic fuel injection system, and fitted a custom turbocharger with a chilled intercooler.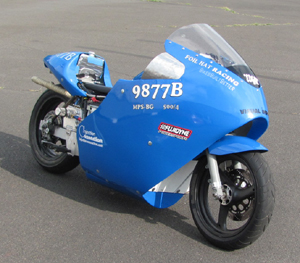 All that fits (just) behind a fairing from Air Tech. Several local talents such as McFatridge Welding and Visual Impact painting contributed to the effort. Hundreds of hours of custom fabrication at Bikes Built Better resulted in an incredibly successful maiden voyage to the Bonneville Salt Flats. The Foil Hat Racing team and Edgar (the bike was named after the crazy alien in Men In Black) broke--no, smashed--three existing Land Speed records, and set a new one.
The land speed record is the highest speed achieved by a wheeled vehicle on land. There is no single body for validation and regulation but here you will find information about a few of the most popular sanctioning organizations.
Foil Hat Racing Set 7 Land Speed Records Their First Race Season 2011

The East Coast Timing Association LLC (ECTA) is the principal sanctioning organization for Land Speed Racing in the Eastern United States. Five times a year, scores of car and motorcycle racers gather at the Laurinburg-Maxton airfield just outside Maxton, North Carolina, to speed down the Maxton Mile race track. Vehicles range from production cars and bikes to exotic, purpose-built racers. It is quite a show! The ECTA held its last event ant Maxton in October of 2011 and will be racing in a new location in Wilmington, Ohio
Bonneville Land Speed Racing is a unique sport that consists of very determined people who drive hot rods, roadsters, belly tankers, lakesters, motorcycles, streamliners, and even diesel trucks to "shoot the salt" in a simple quest to have their name added to the list of many record holders. El Mirage dry lake bed has been home to Land Speed Racing (LSR) for more than half a century. It is located just 30 miles east of a growing high desert community known as the Antelope Valley.
The mission of the LTA is provide a Safe, Fun, and Fast environment for racers to pursue terminal speed. We will make every effort to give all of our racers, spectators, and volunteers an an experience that is more than they could have wished for and will leave them waiting to return again and again.