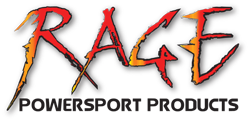 RAGE Powersports for dependable, quality built motorcycle transporting products that deliver the utmost combination of performance, reliability and value. Rage powersports motorcycle ramps, carriers, covers, jacks, stands and more. Call for prices and availability.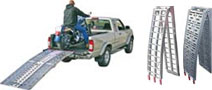 Folding Motorcycle Ramps
Find superior construction and innovative applications with these Motorcycle Ramps designed to fold between each use for compact storage and easy portability. Featuring serrated rungs and optimal rung spacing for maximum traction in all weather conditions, tapered feet and solid lips (in some models), and a long lasting durable finish.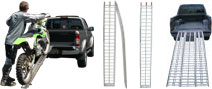 Non-Folding Motorcycle Ramps
Single and multiple piece high quality loading/unloading ramps with serrated rungs and optimal rung spacing for maximum traction in all weather conditions. Made with light weight aluminum, a durable long lasting finish, arched (for an extended reach) and straight designs are available to meet the needs of your loading specifications.

Hitch Mounted Carriers
Motorcycle transportation made easy with carriers designed to work with an existing vehicle hitch. For greater stability during hauling, each hitch mounted carrier includes multiple tie-down points and an anti-wobble/tilt mechanism which helps to eliminate vibrations to both the carrier and motorcycles or dirt bikes being transported.

Motorcycle & Scooter Covers
Perfect for off-season storage, these durable water proof motorcycle covers come in a variety of sizes to fit motorcycles, cruisers, sport bikes, dirt bikes and even scooters. Material fabrics are lightweight and designed to keep your motorcycle in pristine condition during storage.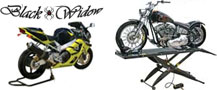 Lifts, Jacks & Stands
Make motorcycle maintenance quick and painless with full-feature motorcycle lifts, jacks or stands created to lighten stress loads on both the technician and motorcycle or dirt bike. Choose from hydraulic & air lifts or jacks, motocross stands, front/rear end motorcycle stands, foot pedal operated stands and more.

Motorcycle Wheel Chocks
Truck bed mount, removable motorcycle wheel chocks provide extra stability and tie-down points to help protect motorcycles and dirt bikes during unoccupied transportation. Each kit is easily mounted or removed and comes with all the necessary hardware.