Thank you for visiting Bikes Built Better's Tech Discussion Forum
Do Not Post Here For Support
Use Contact Form For Fast Customer Support
Forum Registration has been disabled due to spamming the board. Previously registered users have been saved and information is safe and secure. We left the forums open to browse but have deleted many of the posts that had been compromised. We will post new tech information here in the future but if you have a question or need service please use our
Contact Form Located Here.
Site Admin
Posts: 20
Joined: Wed May 21, 2008 10:29 am
Contact: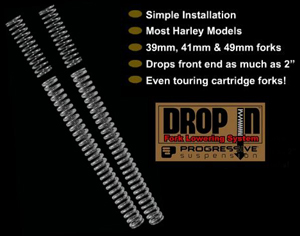 The new Drop-In Fork Lowering Kit from Progressive Suspension, with applications for Dynas, Sportsters, Softails and FLs, will make you gladly forget everything you thought you knew about lowering a Harley-Davidson front end.
These kits let you drop that front end up to a full 2-inches, on most bikes doing it without the hassles of disassembling the forks or pulling the wheel.
In most cases only the fork caps have to be removed to complete the installation. Take those caps off, lift out the stock fork springs (if the bike has washers and/or spacers they come out, too), determine the correct PVC spacer for the bike you're lowering (there's a chart supplied with the kit) and with the forks fully extended insert the Drop-In Fork Spring, the Drop-In Compensation Spring, the supplied washer and that PVC spacer. That's it. Reinstall the fork cap and you're done. How's that for making a tough job easy? The Progressive Suspension Drop-In Fork Lowering Kits are available now, too.