Thank you for visiting Bikes Built Better's Tech Discussion Forum
Do Not Post Here For Support
Use Contact Form For Fast Customer Support
Forum Registration has been disabled due to spamming the board. Previously registered users have been saved and information is safe and secure. We left the forums open to browse but have deleted many of the posts that had been compromised. We will post new tech information here in the future but if you have a question or need service please use our
Contact Form Located Here.
Site Admin
Posts: 20
Joined: Wed May 21, 2008 10:29 am
Contact: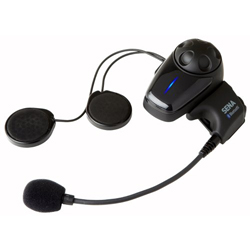 Brand: Sena
Model: SMH-10
Rating: 3 stars
Using as: listening to music on the road.
Explanation: All I really wanted was to listen to some music on my long, boring commute.
I started out with some Koss earbuds. They had really good sound but I couldn't get my modular helmet on without yanking them out of my ears. After reading a bunch of reviews in other places I bought the Sena SMH-10 single headset. It was easy to install in my Scorpion EXO-900 helmet although the microphone boom never seems to be in a happy place. The device is also easy to power up and use with gloves on, and hooking up my non-Bluetooth MP3 was a piece of cake.
Once on the road I turned on my MP3 player...and I was quite disappointed in the sound quality. The great bass that the little Koss earbuds dleivered was pretty much gone. The music comes out of both speakers, but it's like somebody cut off the bottom half of the sound.
I haven't tried the SMH-10 with my Bluetooth GPS yet; I'll update this after I've tried that a few times.